By Whitney Hale
The University of Kentucky Libraries' King Library Press will salute private press printer Gray Zeitz and his Larkspur Press in its Spring Book Arts Event beginning 7 p.m. Friday, May 31, in the Great Hall, at the Special Collections Library in the Margaret I. King Building.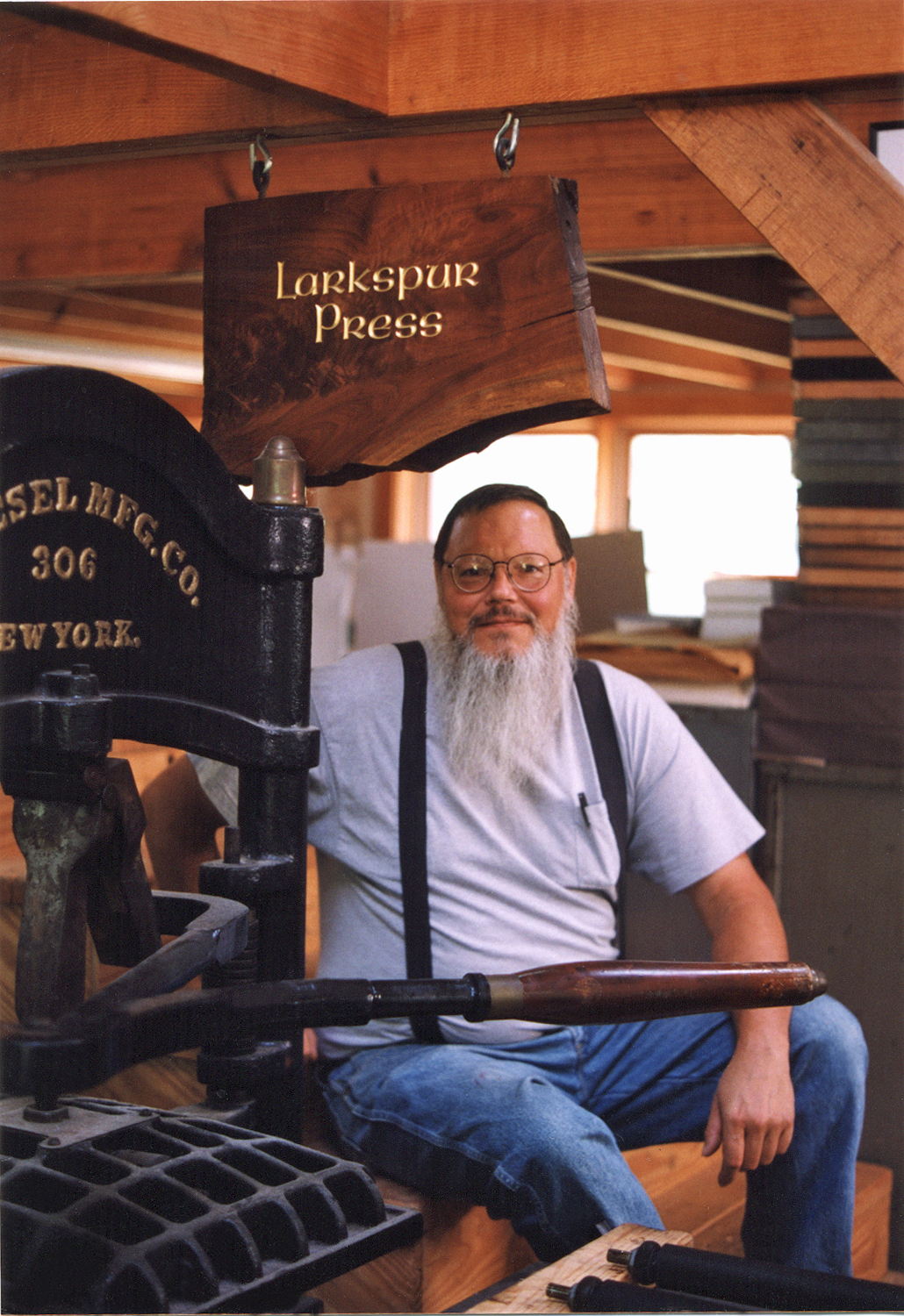 The celebration will include remarks and readings by prominent Kentucky authors whose works have borne the Larkspur imprint. These writers include Nana Lampton, Ed McClanahan, Maurice Manning, Maureen Morehead, Richard Taylor, Mary Ann Taylor-Hall and Jeff Worley. Also speaking will be Canadian wood engraver Wesley Bates and Cincinnati bookbinder Gabrielle Fox.   
Zeitz learned the art of fine printing at the King Library Press while a student at UK. Last year he was awarded the 2012 Governor's Artist Award in the state's annual Governor's Awards in the Arts. This year he celebrates the 40th year of operation of Larkspur Press. 
Zeitz is a fine press publisher working in Monterey, in Owen County, Ky. His specialty is printing hand-crafted editions of the work of Kentucky's authors, including such figures as Wendell Berry, Guy Davenport, Bobby Ann Mason, Gurney Norman and Thomas Merton. Several of Kentucky's poet laureates have been printed by Larkspur. He also calls on talented illustrators and expert bookbinders to collaborate in his work.   
A special Larkspur Press Workshop will be conducted at the King Library Press Saturday, June 1. Participants will print wood engravings by artist Wesley Bates, enjoy a printer's tour of Larkspur Press books, see a demonstration of wood engraving by Bates as well as a demonstration of paper decorating for bookbinding by Cincinnati book artist Carolyn Whitesel. Registration and a fee of $40 (including continental breakfast and lunch) are required for the workshop. 
The Gray Zeitz and Larkspur Press lecture is presented by the King Library Press at UK Libraries. The press is devoted to the tradition of fine printing and produces books and broadsides. Recent publications available from King Library Press include a portfolio of five poems by former Kentucky Poet Laureate Jane Gentry Vance, "Heart to Heart" by Necia Harkless and Abraham Lincoln's "Second Inaugural Address."
For more information on the Book Arts Event and Larkspur Press Workshop or to register for the workshop, contact Jim Birchfield, in UK Special Collections, at 859-257-8408
or klijdb@uky.edu.