By Whitney Hale
The University of Kentucky Libraries Special Collections will highlight the projects of its first full cohort of Learning Lab interns with an undergraduate panel presentation, exhibition and reception from 4 to 6 p.m. Tuesday, April 23, in the Margaret I. King Building. The events and exhibition are free and open to the public.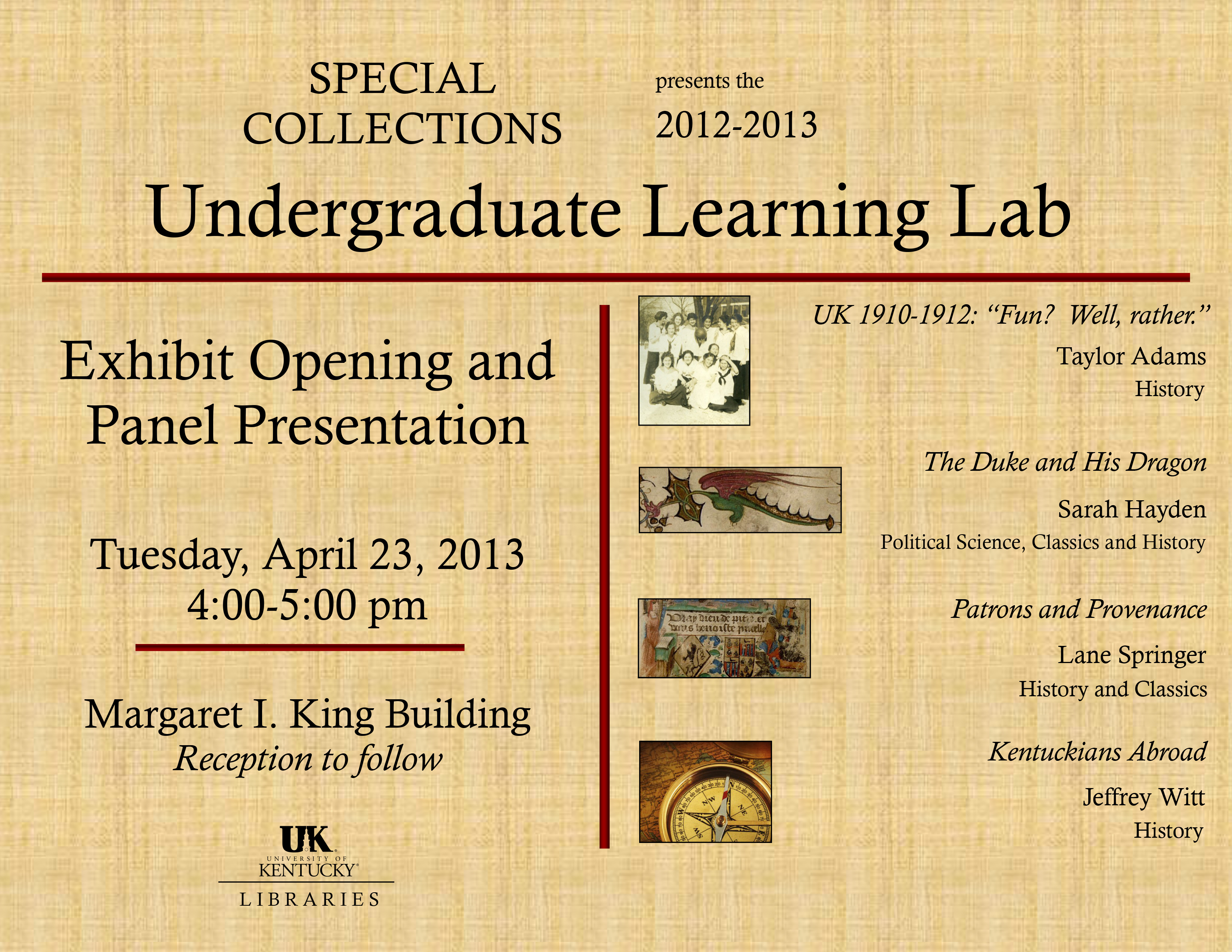 Currently in its inaugural year, the Special Collections Learning Lab (SCLL) is a center of primary research, experiential learning, and training. Targeting undergraduate students in the humanities, social sciences and arts, the SCLL promotes undergraduate research, scholarship and creativity and more fully integrates Special Collections into the teaching and research mission of the university. The interns have enhanced access to a collection, build upon their existing research interests, and present on their findings.
Taylor Adams, a sophomore pursuing a major in history and a minor in Appalachian studies, is transcribing the 1910-1912 journal-scrapbook of UK student Virginia McClure. After graduating in 1912, McClure went on to receive her master's degree and doctorate from UK in 1928 and 1934 respectively, becoming the first woman to earn a Ph.D. at the university.
Sarah Hayden, a junior majoring in political science, classics and history, is transcribing MS LAT KY VIII, a Latin prayer book from Italy commissioned by the last Visconti ruler of Milan in the early 15th century. She is using the online transcription system T-PEN, a project for which Abigail Firey, associate professor of history, is co-principal investigator. 
Lane Springer, a senior majoring in history and classics, is transcribing MS LAT KY IX, a French book of hours that is actually two unrelated manuscripts bound together. Springer is also using T-PEN for her work.
Jeffrey Witt, a senior with a major in history and a minor in anthropology, is processing the Lewis family letters (from three brothers from Kentucky who served in the Army in the Korean War) and the Mac D. Ferguson scrapbook (a Louisville, Ky., native who became a vaudeville actor) from the Wade Hall Collection of American Letters.  
Adams, Hayden, Springer and Witt will discuss their Learning Lab projects and experiences at a panel presentation starting at 4 p.m. Tuesday, April 23, in the Wendell H. Ford Public Policy Research Center, room 103B of M.I. King Building. The exhibit and its opening reception will follow at 5 p.m., in the lobby of King. 
UK's Special Collections is home to UK Libraries' collection of rare books, Kentuckiana, the Archives, the Louie B. Nunn Center for Oral History, the King Library Press and the Wendell H. Ford Public Policy Research Center. The mission of Special Collections is to locate and preserve materials documenting the social, cultural, economic and political history of the Commonwealth of Kentucky.
For more information on the Learning Lab panel and exhibit, contact University Archivist Ruth Bryan, at ruth.bryan@uky.edu.