By Lindsey Piercy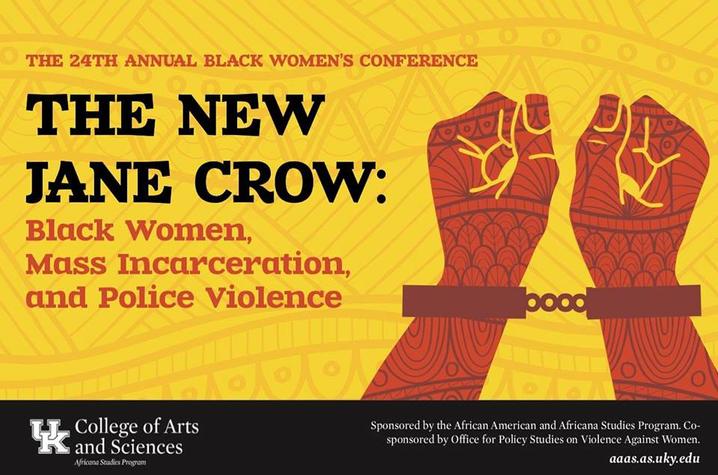 The University of Kentucky African American and Africana Studies Program hopes to send a message of empowerment throughout the 24th annual Black Women's Conference.
This year's conference, themed "The New Jane Crow; Black Women, Mass Incarceration, and Police Violence," will be held Friday, March 30, and Saturday, March 31.
"Black women are a fast-growing portion of the prison population and experience a myriad of challenges related to high incarceration rates in the U.S. Therefore, we thought it was essential that we draw attention to the very real impact mass incarceration and police violence have on black women," said Anastasia Curwood, director of African American and Africana Studies Program (AAAS).
The two-day event will feature several distinguished guest speakers including, Apprentice Organizer for Kentuckians for the Commonwealth Tayna Fogle, Director of Advocacy for the Sentencing Project Nicole Porter, Campaign Manager at Color of Change Enchanta Jackson, Kentucky state Rep. Attica Scott and attorney Andrea Ritchie.
Fogle advocates on the issue of restoring voting rights to former felons. Born and raised in Lexington, Fogle has opposed harsh drug sentencing policies and fought to regain her own right to vote. She has also created re-entry programs, trainings and ministries in many Kentucky counties.
Nicole Porter manages The Sentencing Project's state and local advocacy efforts on sentencing reform, voting rights and eliminating racial disparities in the criminal justice system. She was named a "New Civil Rights Leader" by Essence Magazine in November 2014 for her work to eliminate mass incarceration.
Enchanta Jackson, a Lexington native, is a criminal justice campaign manager at Color of Change in Washington, D.C. The political action group focuses on addressing concerns of black Americans to bring about positive political and social change.
State Rep. Attica Scott serves Kentucky House District 41. In 2016, she defeated a 34-year incumbent to become the first black woman, in nearly 20 years, to serve in the state legislature. In 2017, Scott was named a Rise to Run Trailblazer and began serving on the Emerge Kentucky Board of Advisors. She is also a certified anti-racism trainer through Crossroads Ministry and the Commission on Religion in Appalachia.
Andrea Ritchie is an attorney and organizer who has engaged in extensive research, writing and advocacy around criminalization of lesbian, gay, bisexual and transgender (LGBT) people of color. She recently published "Invisible No More: Police Violence Against Black Women and Women of Color."
Ritchie is a nationally recognized expert and sought-after commentator on policing issues. She has testified before the President's Task Force on 21st Century Policing, the White House Council on Women and Girls, the Prison Rape Elimination Commission and several United Nations treaty bodies. She has appeared regularly in The New York Times, as well as on MSNBC, C-SPAN, NBC Nightly News, NPR, Al-Jazeera and Mother Jones.
Ritchie's distinguished lecture is being funded through the Georgia Davis Powers Endowment by the Office for Policy Studies on Violence Against Women.
"In 1968, Georgia Davis Powers became the first African American and the first woman ever elected to the Kentucky State Senate. Even before she began her career as a senator, Georgia Powers was a great leader in the Civil Rights Movement in Kentucky. In honor of Sen. Powers and her work on behalf of women, the Georgia Davis Powers Endowment was established in the OPSVAW. The endowment symbolizes the truth that violence against women is pervasive in the United States and around the globe, crossing boundaries of race, ethnicity, class, caste and age — crossing lines of country, region, state and nation," said Carol Jordan, executive director of Office for Policy Studies on Violence Against Women.
In its 24th year, the conference has a rich history. It was originally founded by Doris Wilkinson, a retired professor from the UK Department of Sociology. Wilkinson was the first African American elected to the UK Hall of Distinguished Alumni, and in 1967 became the first African-American woman to attain a full-time position at UK.
"Because the issues black women encounter are different from those facing black men and women of other races, the conference has made a sustained, unique contribution in the region," Curwood said.
The 2018 Black Women's Conference schedule is as follows:
Friday, March 30
Jacobs Science Building Room 321
4:30-5:30 p.m.: Tayna Fogle, Kentuckians for the Commonwealth
5:30-6:30 p.m.: Doris Y. Wilkinson Keynote Lecture: Nicole Porter, The Sentencing Project
6:30-7 p.m.: Reception
Saturday, March 31
William T. Young Library Auditorium
8:30-9:45 a.m.: Breakfast
10-11:30 a.m.: Activism workshop with Enchanta Jackson, Color of Change
11:30-12:45 p.m.: Lunch
1-2:30 p.m.: Shirley Chisholm Memorial Lecture: Kentucky state Rep. Attica Scott (D-Louisville)
3-4:30 p.m.: Georgia Davis Powers Distinguished Lecture: Andrea Ritchie, cosponsored by the Office for Policy Studies on Violence Against Women
4:40-5 p.m.: "Invisible No More" book signing and sale
The conference, free of cost, is open to UK students, staff and faculty, as well as the Lexington community. 
UK is the University for Kentucky. At UK, we are educating more students, treating more patients with complex illnesses and conducting more research and service than at any time in our 150-year history. To read more about the UK story and how you can support continued investment in your university and the Commonwealth, go to: uky.edu/uk4ky. #uk4ky #seeblue