I am looking out on my rain-soaked yard in Craven County, NC, where it sure seems wetter than normal. Indeed, data from the nearby weather station in New Bern shows 90 mm of rain so far this month, and 1648 so far this year—the averages for Dec. 20 are 55 mm since Dec. 1, and 1309 for the year.
But this ain't nothin', really. The real story in these parts is the increased precipitation from tropical cyclones. The largest floods in memory in many locations in eastern NC occurred in conjunction with Hurricanes Florence in 2018, Matthew in 2016, and Floyd in 1999. At many locations these three represent, in on order or another, the 3 largest floods ever recorded. The key question being asked is whether this is the "new normal;" whether more frequent and/or more powerful storms and rainfall events (relative to say, the 20th century, are what we are going to get from now on. As one who suffered >$35K worth of uninsured water damage from Florence, I hope to hell not. But the evidence is not on my side.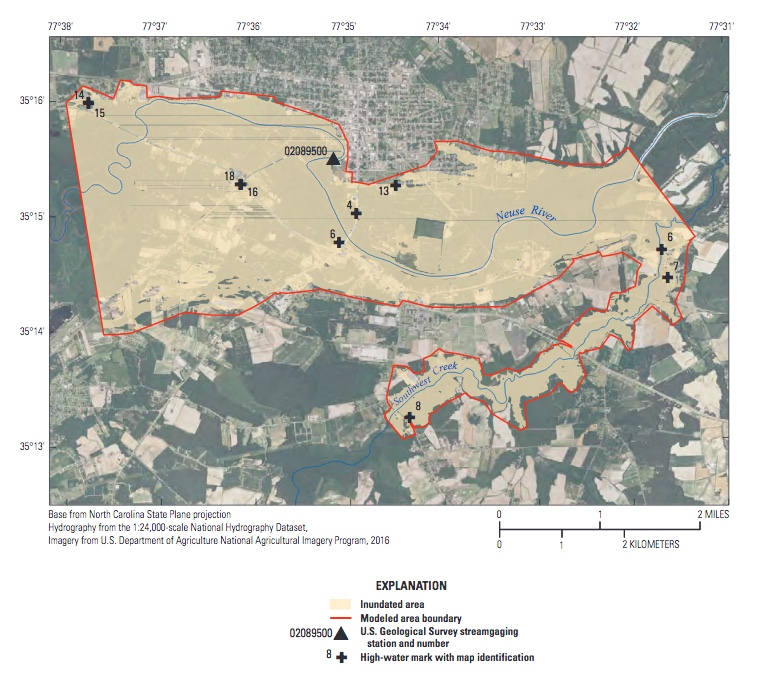 U.S. Geological Survey Flood inundation map for Kinston, NC (Neuse River) for hurricane Matthew in 2016.